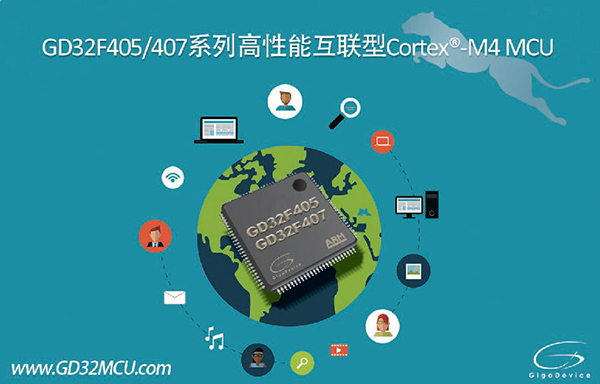 The GD32F405/407 series connected products adopt a brand-new process design and integrate powerful computational efficiency and a diversity of external interfaces. With the processor having a dominant frequency up to 168MHz, they provide a complete DSP command set and implement computing capability and dedicated FPU. To address the concurrent operating of multiple peripherals and resource overheads of imbedded software protocol stacks, they are equipped with 512KB– 2072KB super-large capacity built-in flash and SRAM up to 129KB. Causing no wait for core access to the flash at high speed, their working performance can reach 210DMIPS at the highest dominant frequency and their code execution efficiency at the same dominant frequency is better than its peers on the market by 10% to 20%; they have surpassed all Cortex®-M3 products, with their performance enhanced by more than 40%.
The chip for the series operates under power supply of 2.6V-3.6V while its I/O interface can stand the 5V electrical level. The built-in power management unit supports advanced power management and provides three power-saving modes; the working current for all the peripherals in full-speed running mode is 500µA/MHz, the minimum standby current is 2µA in battery mode, achieving an excellent energy efficiency ratio. It is equipped with two 16-bit advanced timers supporting three-phase PWM mutually supplementary output and the Hall sensor interface and used for vectoring control. In addition, it has as many as eight 16-bit general-purpose timers, two 32-bit general-purpose timers, two 16-bit basic timers, and two 8-channel DMA controllers. The GD32F405/407 series integrates into its chip a diversity of innovative peripheral resources to enhance connectivity, including up to four USARTs, two UARTs, three SPIs, three I2Cs, two I2Ss, two CAN2.0Bs, one SDIO interface, one 10/100M fast Ethernet MAC, and is equipped with USB2.0 OTG FS (full-speed 12Mbps) and HS (high-speed 480Mbps) interfaces, providing multiple transmission modes such as Device, HOST, and OTG. The USB 2.0 FS interface has an independent 48KHz oscillator in the place of an external crystal oscillator, plus two 12-bit DACs, providing a better price-performance ratio for mixed sign control. Up to 80% of available GPIOs have optional features and support port remapping, while they meet various application requirements for excellent flexibility and ease of use.
The GD32F405/407 series provides an excellent flash cache and connectivity solution to better suit Internet application scenarios. With an advanced cache architecture, this new series is equipped with three independent SRAMs and supports simultaneous access to the master/slave devices on different buses. The newly added 64KB TCM RAM can act as a stack for system operation and also as a high-speed computing cache so as to bring the best performance out of the core. The 32-bit bus interface EXMC also supports external SDRAM extension and can carry out large-capacity data caching and high-level interface control at a better price-performance ratio. Besides, it is equipped with 8-bit to 14-bit camera video interface to facilitate connection to the digital camera for image collection and transfer. The product features excellent ESD and EMC capabilities and complies with industrial-grade reliability and temperature standards.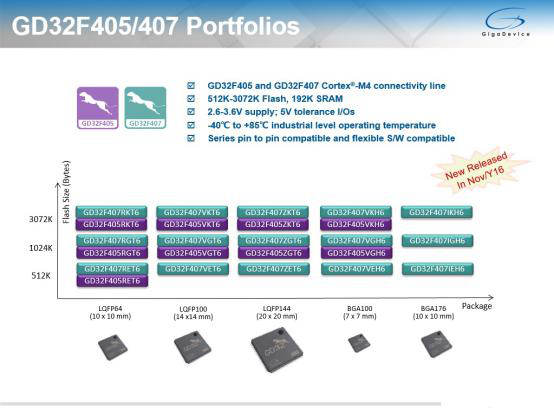 Jin Guangyi, senior product marketing manager of GigaDevice, said, "The efficient processing capability of smart industrial manufacturing and the IoT system and multi-device interconnection bring huge market demands for microprocessors and strongly drive the perfection of the MCU product line. With rich industry-leading connection features and computing performance, the GD32F405/407 series MCUs are conducive to integrating all gateways, thus improving connectivity and integration. In addition, they help reduce investment costs effectively, making it an ideal choice for such applications as industrial automation, human-machine interface, security surveillance, vehicle devices, robots, UAVs, and IoT."

The GD32F405/407 series has 24 models, including five encapsulation forms as options, namely the LQFP144, LQFP100, LQFP64, BGA176, and BGA10. The fully compatible software and hardware ecosystem of the GD32 enables users to choose suitable models freely according to development requirements. GigaDevice also has a complete and rich firmware library for new products, and it has well prepared the GD32 development ecosystem including multiple development boards and application software. Its brand-new development tools include the GD32407V-START, GD32407R-START, and GD32407H-START to match three different kits for encapsulations and pins, making it convenient for users to carry out development and debugging. In addition, it provides GD-Link, a mass production debugging tool supporting online simulation, online recording, and offline recording (three in one). Benefiting from the extensive ARM ecosystem, full support is now available for more development software such as Keil MDK and third-party recording tools. These have made project development much simpler and easier and effectively expedited the time to market.
GD32 MCU Family
The GD32 MCU family currently consists of 250 models, 13 series, and 11 different encapsulation forms and is China's first ARM® Cortex®-M3 and Cortex®-M4 general-purpose MCU family. While offering the industry's largest range of Cortex®-M3 MCU options, GigaDevice proceeds to launch Cortex®-M4 MCU products by building on its leading-edge technology. All the models are compatible with each other in terms of software and hardware pins and encapsulations, fully supporting a variety of low-/mid-/high-end imbedded applications and upgrades. Combining high performance, low costs, and ease of use, the GD32 series general-purpose MCUs integrate multiple patented technologies with proprietary IPRs and better meet the increasingly diverse smart application requirements. Tested over a long time on the market, the products are the No. 1 choice for innovation in system design and project development.